Clean It Up offers standard and specialty steel drums in a range of sizes and thicknesses with a choice of linings, configurations and covers to transport materials for the chemical, paint and coatings, food, pharmaceutical and hazardous waste industries.
Steel pails are offered in a various options, such as tight-head, open-head, straight-sided and open-head nested styles. Clean It Up also supplies specialty application pails for products requiring a high degree of cleanliness. These steel pails transport materials for various industries, such as specialty chemicals, paints and coatings, pharmaceuticals, flavors and fragrances.
UN-Rated Steel Drums
Specs
Capacity: Open Head 5-110 US Gallons
Capacity: Tight Head 5-55 US Gallons
Steel Thickness, 0.9-1.5mm (20-16 gauge)
UN Solids, Liquids, and Dual
Open Head Closure: Bolt or Lever lock Ring
Open Head Gasket: EPDM
Tight Head Fittings: 2″ x ¾" Tri-Sure Style Plug & Flange
Optional: 2″ x ¾" Rieke Plug & Flange
Exterior: Black with White Cover
Optional: Interior Epoxy Phenolic Lining
Meet UN Requirements for hazardous materials
Protect the integrity and safety of your product
Quick Lever Steel Drums
Quick lever drums feature an innovative new UN qualified leverlock drum ring that eliminates the need for tools and takes the guesswork out of complying with technical closure instructions. The quick-lever closure on lever drums secures easily, with no need to measure torque or ring gap. Available on both open head carbon and salvage style drums.
Open Head carbon and stainless steel drums with outside heavy-duty leverlock ring.
UN rated for solids and liquids.
Easy repeat access
Fast Installation
STEEL SALVAGE DRUMS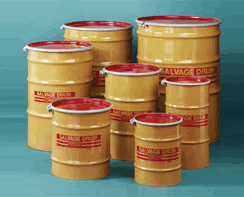 Our open head salvage drums are constructed of high quality carbon steel and meets the UN design type requirements. Standard salvage drums feature yellow bodies with yellow or red covers, with a multilingual salvage drum logo in red. Available salvage drum options include 3/4″ vent plugs and corrosion resistant epoxy phenolic lining.
Capacity: 5–110 US Gallons
Steel Thickness, 0.9–1.5mm (20–16 gauge)
UN Solids, liquids, dual and T-rated
Closures: Bolt style or Lever lock
LEARN MORE ABOUT FIBER DRUMS