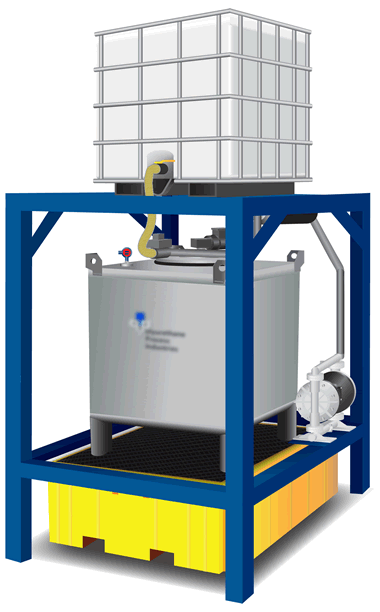 Introducing  All New Compact Chemical Storage and Transfer Stations
A compact, chemical storage and transfer system that makes it easier for manufacturers to condition and automatically feed chemicals to their blending or processing equipment.
The new, modular system can be used to fill day tanks automatically with pre-conditioned polyurethane components, leading to more reliable production and component quality.
Designed for use with 275- to 330-gallon plastic chemical totes, or intermediate bulk containers (IBCs), each stackable storage and transfer station is available in two designs: one optimized for isocyanate or low viscosity additives and the other optimized for polyol or high viscosity additives.
Both designs feature:
A framework with a small, 72-inch-by-72-inch footprint that allows you to stack one IBC above another.
An angled top platform that promotes maximum use of the material from the removable, upper chemical tote.
A permanent, 350-gallon, stainless steel, lower chemical tote equipped with automatic fill and a programmable alarm that notifies operators when the upper tote stops filling the lower tote.
A spill containment basin.
A diaphragm pump to transfer materials to a blending or metering unit. The pump can be started and stopped automatically using a signal from that unit.
A 110 VAC outlet plug.
All hoses, valves, fittings and wiring.
Each storage and transfer station also can be configured with heat exchangers, temperature control units, re-circulating pumps, air-operated agitators, and other options that may be required by the manufacturer's process.
"This system is ideal for additive storage and transfer to a blending unit, which makes it great for large- volume chemical users who need to blend additives with polyol on site," Clark said. "For low-volume chemical users, this is an economical storage and transfer solution for polyol and MDI."
The removable upper tote automatically fills the permanent lower tote, which is used to store, condition and automatically transfer chemicals to day tanks for blending or metering into the processing system.
When the upper tote is empty, it can be replaced easily while the lower tote continues to feed the processing system. An alarm notifies the operator when the lower tote stops receiving material from the upper tote, reducing the possibility that blending or metering units will have to be shut down to change a tote.
The system is delivered in easy to assemble modules.
"The modular construction also enables us to provide economically efficient individual solutions," Clark said.
For complete specifications, call us : 1-800-684-1347
See Our Containment Systems Product Solutions
 Our Standard Plus Custom Solutions