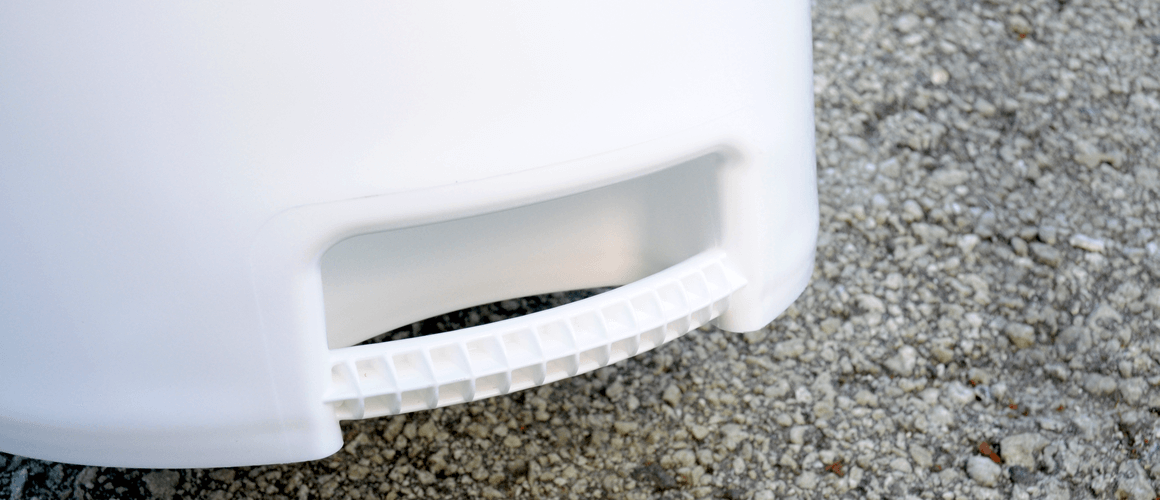 Better Engineered 5 Gallon Poly | Plastic Pails
Patented, built-in handle, makes pouring easy. In the world of containers, the 5-gallon pail like 55 gallon drums are the work horses of global industrial and commercial markets. We've taken it and added a supporting feature that makes it far more usable. A second handle is integrated into the bottom of the poly or plastic pail so that turning our pail over and pouring out the contents is so much easier than previous pail designs.
The ergonomically-designed, molded-in handle is patented and provides a secure handhold to help manage pouring. No more fingertip grabs on the narrow rim at the bottom of the pail.
Features
Better Engineered 5 gallon poly plastic pail with molded-in handle makes pouring/dumping quick and easy.
Better grip and better control – pour with greater precision.
Ergonomic design – minimizes back pain and other injuries associated with heavy lifting.
Heavy-duty (90 Mil) HDPE construction – excellent chemical resistance. Benefits of High Density Polyethylene
Same overall dimensions/specifications as standard 5-gallon pails.
Perfect container for compact spill response kits.
Meets FDA standards (food grade)
Made in the U.S.A.
Custom colors and branding available.
Details
CIU-0660 Eng. Pail – No Lid 12 Top Dia. x 14½ h
CIU-0662 Eng. Pail – No Lid, Bulk Pallet (288 units) 12 Top Dia. x 14½ h
CIU-0664 Eng. Snap on Lid (UN Rated) 12⅛ Top Dia. x 3⅜ h
Available in UN- Rated and Non UN Rated designations
Note: These all new pails are currently offered in special order pallet load quantities only.
In larger containers, also visit   https://cleanitup.com/how-to-select-black-poly-55-gallon-drums-and-containers/
 ABOUT OUR PLASTIC POLY AND STEEL PAILS