Spill Containment Berm Solutions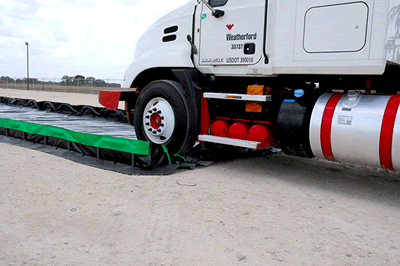 We offer flexible secondary containment in practically every size, type, fabric and more. To be effective, the ideal Containment Berm will very closely match the specific demanding application at your work site or facilities.
Our broad ranges of standard containment berms will fit almost every application. Where needed we provide custom models for your special requirements.
Be sure to also visit some of  our Flexible Products Models
Foam Wall Models
Low profile design is perfect for equipment maintenance and portable drum containment
Capture nuisance leaks and spills from vehicles, oily equipment, tanks and drums.
Soft foam sidewall easily compresses for convenient loading and off-loading.
Choose from several standard sizes to meet your spill containment needs – custom sizes also available.
Low, 4-inch sidewall contains spills – keeps plant floors and soil free from contamination. (2″ wall height available)
No set-up required – simply unfold for quick deployment. Folded units require minimal storage space.
Available in Copolymer-2000 or PVC (24 mil) – withstands the rigors of industrial and construction applications.
Built-in handles help with transport and placement.
Drive-in and Drive Out Models
Drive-In & Drive-Out Berm allows the user to drive in and out without having to lower the end walls. Fuel and chemical resistant.
Ideal for fuel use
Constructed of XR5 Fabric
Easy to assemble
Lap joint welds for maximum strength
Design permits quick deployment
Made in the USA
Size Examples: standard and custom sizes and features also available to meet every spill control application.
CIU-T8430DR 12′ x 18′ x 1′
CIU-T8432DR 10′ x 26′ x 1′
CIU-T8437DR 12′ x 36′ x 1′
CIU-T8440DR 14′ x 54′ x 1′
CIU-T8441DR 12′ x 60′ x 1′
CIU-T8443DR 14′ x 85′ x 1′
 Some Of Our Other Models To Consider
L-Bracket Berms
Removable Sidewall Berms
Rail Containment Berms
Containment Pools
PVC Coated Fabric Berms
Modular Berms
Mini Foam Wall Models
Rapid Rise
Ultimate drive in and drive Out
Compact
Stake Wall
Economy
Tell us about your application, chances are we've successfully assisted other companies with similar requirements.
SX Berms
This Berms is available in 30 standard sizes
Ideal for fuel use
Constructed of XR5 Fabric
Easy to Assemble
Compact Storage and Transport
CAD Design and cut components
Lap joint welds for maximum strength
Snap-up design permits immediate response
Made in the USA
Sizes range from 4′ X 4′ X 8″ to 25 feet wide X 40 feet long X 1 foot high
 KEYS TO SELECTING CONTAINMENT BERMS