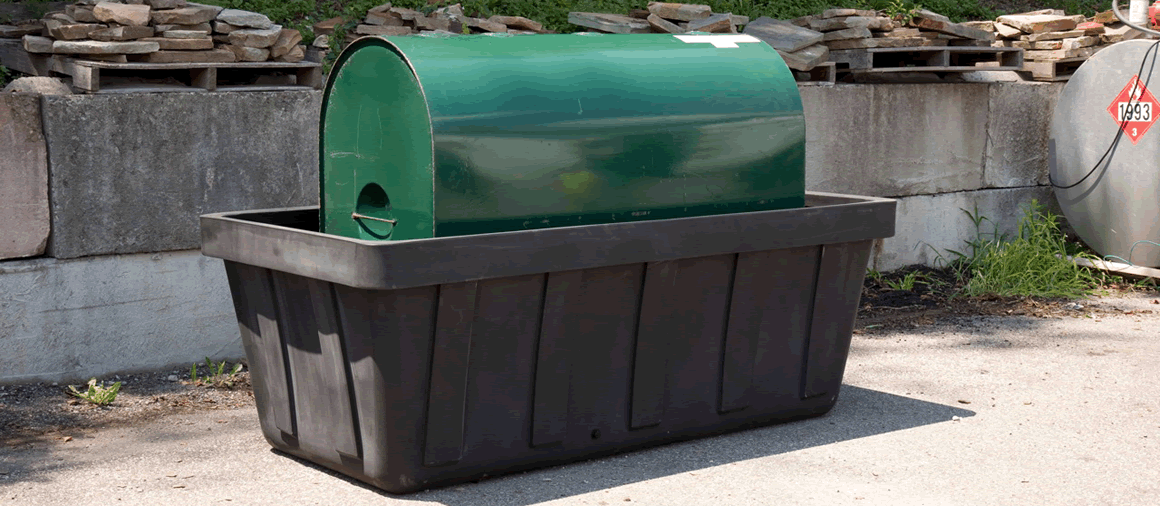 Tank Spill Containment Systems
Economical containment solutions for horizontal tanks. Single piece HDPE (High Density Polyethylene) design for outdoor containment of  large tanks.
Containment Sumps – For fuel and oil tanks. Polyethylene construction will not rust or corrode. Provides superior chemical and weather protection.
Note: Call us for inside top and bottom tapered sump dimensions to match your tank configuration and other critical selection details.
Flexible Models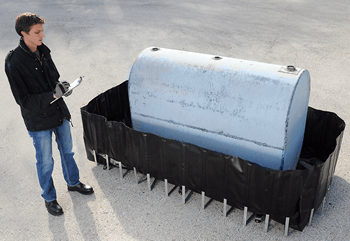 Flexible spill containment sumps fold for less expensive shipping and easy storage. The Flexible Model Containment Sumps use a very durable material braced by L-brackets to effectively contain leaks, drips, and spills. But when the sump needs to be moved or put into storage, the brackets can be easily removed and the material folded up.
Key Features:
Economical and portable spill containment for 275-, 500/550- and 1000-gallon tanks.
L-shaped aluminum brackets provide sturdy sidewall support.
Standard sizes fit most fuel tanks. Brackets can be removed and material folded for compact storage and easy transport.
L-Brackets are quickly and easily installed in heat-welded sleeves around the Sump's perimeter.
Meets SPCC and EPA Container Storage Regulation 40 CFR 264.175.
CONTAINMENT DRAINS
Low Cost Spill Protection and Drain System
Our Containment Drain Model 16 was designed for specific containment platforms and pallets that have built-in drain plugs. The 16DRAIN connects into the 3/4″ port in the side of the tub to allow liquid in the tub to drain through the assembly. The assembly includes a replaceable absorbent sock (Model 16-FILTER) to collect oil allowing only water to discharge at the other end of the drain assembly for proper disposal. The assembly also has a plastic mesh screen inside to collect debris. When the absorbent sock in the assembly is fully saturated the liquid flow stops. The threaded drain assembly allows for easy removal and replacement of the absorbent sock. (Replacement sock kit sold separately).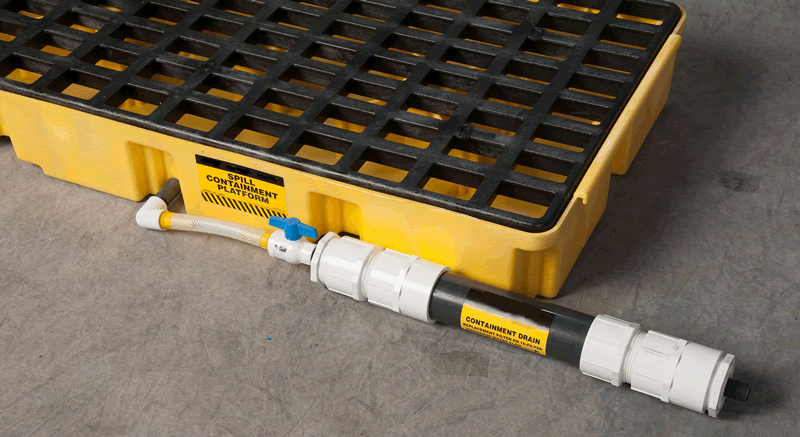 Larger Scale Drain and Filtration System
Also see our Self Bailer option for passive filtration of non-monitored containment sites (including our large and very large spill containment drainage products)
Selecting Passive Outdoor Filter Products