Flexible Containment and Control Solutions
Flexible Containment Solutions
and Portable Containment Berms from Clean It Up  are an affordable solution for fast response to leaks and drips.
Available in an incredible array of sizes and products to meet most demanding spill applications around facilities or in field operations, our products are designed as an affordable and reusable and durable solution for quick deployment. We also offer a quick and easy to use Rail Berm. Our range of  the largest berms are ready for immediate setup and use, including drive in and drive out features.
Perfect flexible Containment for:
Equipment or liquid tanks
Changing oils and fluids
Quickly in place under leaking vehicles
Protecting bottom surfaces wile dispensing
Performing maintenance on equipment with spill potential
Made in the USA
Flexible spill containment sumps fold for less expensive shipping and easy storage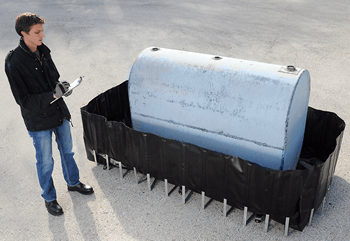 Fuel tanks are large. So it stands to reason that spill containment for them will be even larger. That's great when your tank is leaking… not so great when you're trying to transport or store the sump.
The Flexible Containment Sumps use a very durable material braced by L-brackets to effectively contain leaks, drips, and spills. But when the sump needs to be moved or put into storage, the brackets can be easily removed and the material folded up.
Key Features:
Economical and portable spill containment for 275-, 500/550- and 1000-gallon tanks.
L-shaped aluminum brackets provide sturdy sidewall support.
Standard sizes fit most fuel tanks. Brackets can be removed and material folded for compact storage and easy transport.
Folded units and L-Brackets are shipped in UPS-able boxes. (Part#s 2854 and 2855 are too large for UPS and must ship via truck (common carrier).
L-Brackets are quickly and easily installed in heat-welded sleeves around the Sump's perimeter.
Available fabrics may include but are not limited to:
PVC
XR 3 and 5 Modified Vinyl
HDPE
PTFF (Urethane)
We've been serving industrial containment applications for over 25 years. Please tell us about your specific application and the solution you require. We'll work with you through to the best possible product result. Standard and custom products available (custom may have special production requirements)
Click on Images to Enlarge
Flexible Spill Containment and Control Solutions
Our Flexible Containment and Portable Containment Berms are an affordable solution for fast response to leaks and drips.