Rail Spill Containment Solutions
Keys To Capturing Hazardous Spills From Railroad Tanker Cars
Our Rail Track Pan Systems have been designed to provide railroad spill containment at industrial rail sidings and locomotive maintenance facilities.
Available in virtually any length, Our Track Pans may be used to collect small spills and leaks OR to capture and channel off significant spills caused by defective equipment or a major overflow.
Prevent costly cleanup and regulatory fines from railcar spills and chemical spills.
Modular Track Pan design can be customized to meet your specific railroad spill containment needs.
An economical, easy to install railroad spill solution.
Long work life – Estimated to perform 20-30 years.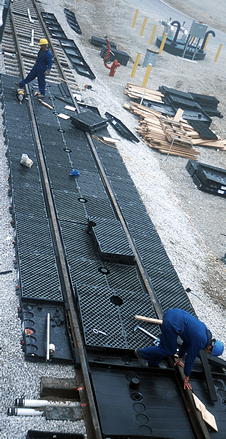 Key Features:
Modular design – Center and Side Pans are 53.5″ long; railroad spill containment areas can be easily assembled to any length desire
All-polyethylene construction – Rugged Track Pans withstand harsh chemicals and are designed to function in temperatures ranging from -40°F to +140°F
Sealed System – Polyethylene gaskets keep spills from falling between the rails and Pans.
Trucks and other vehicles can drive over Track Pans with grates in place (NOTE:

To drive over Track Pans, firm footing must be beneath the Pans; also must "ramp up" to Side Pans with asphalt or concrete)

Below grade piping – All Center and Side Track Pans are molded with pipe fitting locators at their lowest point. Below grade piping can be installed to channel large spills to oil/water separators, holding ponds, etc. More info.
Unique stormwater feature is designed to eliminate "pooling" of rain that falls on top of the Center Pan Covers; rain is channeled onto the ballast between the tracks, stays out of the Pans.
Low Maintenance – unlike carbon steel track pans, Ultra-Track Pans will not rust or corrode. Polyethylene resin is treated with a UV inhibitor, resists degrading effects of the sun.
Low Cost Installation — Lightweight Track Pans can be easily installed without heavy lifting equipment, i.e., forklifts, cranes, backhoes, etc. Minimal tools and labor required.
Slip Resistant Surfaces – Pans, grates and covers have been designed with safety in mind. All top surfaces resist slips when wet or oily.
Options
Optional Track Pan Covers keep rainwater out of the Pans, providing effective stormwater management.
Polyethylene Covers are left in place until the railcar(s) arrive to be off-loaded or loaded. Lightweight covers mechanically lock into the polyethylene decking and will not blow off in windy conditions.
Track Pans Are Available In Two (2) Models:
Track Pans and Grates, No Covers
Track Pans with Grates and Covers
Compliance:
Meets SPCC and EPA Stormwater Management Regulations.
Also meets New York State Chemical Bulk Storage Regulation Section 599.17c — Secondary Containment for Transfer Stations.
Systems Available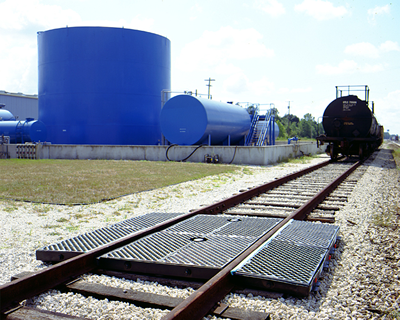 Track Pans With Grates, No Covers

Center Track Pans with Grates
Side Track Pans with Grates
Track Pans, Covers Only
Cover for Center Track Pans
cover for SideTrack Pans
Complete Railroad Spill Containment Systems. Can be combined to accomodate any length requirements.
Two (2)Center Pans, four (4) Side Pans. No Covers
Two (2) Center Pans with Covers, four (4) Side Pans with Covers
Nine (9) Center Pans, eighteen (18) Side Pans. No Covers
Nine (9) Center Pans with Covers, eighteen (18) Side Pans with Covers
Fourteen (14) Center Pans, twenty-eight (28) Side pans. No Covers
Fourteen (14) Center Pans with Covers, twenty-eight (28) Side Pans with Covers.
Systems Options: Rebar Fasteners with Protective Caps, Bulkhead Fittings, Grates Only for Center Pans and also Side Pans.
Regulations: 40 CFR264.175 and SPCC
Contact us for systems assistance, frequently asked questions, chemical compatibility, installation instructions and below grade piping systems.
Headline Here
Start Text here.
 CASE STUDY USING RAIL TRACK PANS