Spill Diapers from Clean It Up are easy to install and help solve the problem of unexpected leaking tailgates on roll-offs & dump trailers and trucks.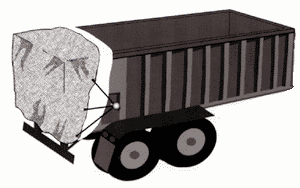 To install, simply slide the Spill Diaper over the rear of the container and secure with tape. Our reusable bib tarp holds the Spill Diaper in place for road travel or you may prefer to use your own tarp. Stock sizes available (with or without bib tarps) for immediate shipment, or custom sizes can be manufactured to your specifications.
As a preventive measure against leaking containers, we recommend using our most well known product, our Container Bag Liner. This polyethylene bag liner is quickly and easily installed inside roll-offs and dump trailers, provides additional safety and security, and enables cleaner dumps.
Disposable Polyethylene Bags For Leaking Tailgates
Made from heavy-weight polyethylene, the Spill Diaper fits around the outside of the container's tailgate to contain leaking liquids. Drivers can carry them in the cab of the truck for emergencies while transporting. Spill Diapers are also useful for spill response teams and for landfills, incinerators, and treatment plants needing to control leaking containers entering their facilities.
VIEW OUR DUMP TRAILER LINERS