Ultra High Molecular Weight High Density Polyethylene Resins Have Resulted In Better Engineered Polyethylene Drums
40 Gallon Open Head Tapered Poly/Plastic Drums
Made in the U.S. to the highest engineering, technical and production standards
Weight: 14.75 lbs. Plus lid and locking rings.
Overall Height: 30 inches
Features: Tapered and Nestable
Overflow Rated: To 42.5 gallons
UN Ratings: Multiple ratings of 1H2/X100/W/18, 1H2/Y150/S/18 and 1H2/Z175/S/18 ( all USA/M4490).
UV Inhibitors Package
Dimensions: 23.125″ OD at the top, 19.150″ OD at the bottom and and overall  height of 30″
Performance Tested to the highest UN/DOT standards for X, Y and Z certifications in packing groups I, II and III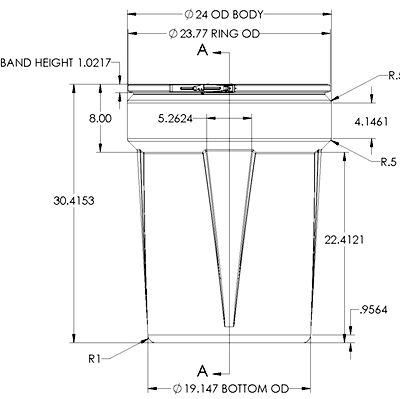 Why Use 40 Gallon Poly Drums
Perfectly fills the gap between 55 gallon and 30 gallon plastic drums with a much needed product to bridge that missing drum product in the full lineup from small to large plastic containers.
Our tapered drums are extremely strong and rigid, yet far lighter than their steel counterparts. Lightweight for ease of handling and savings on shipping.
Certified for use with solids.
Tapered shape and nestability means simplified storage and transportation with ease of handling.
High Density Polyethylene is chemically resistant to many chemicals used in industrial operations. Please refer to chemicals compatibility charts before storing or shipping hazardous material in this packaging as you would with any chemicals compatibility issues in your operations.
The Dimensional Illustration Shown Above On The Right Is Also Available In A  Larger Version
What is Ultra High Molecular Weight Polyethylene
Ultra High Molecular Weight (UHMW) Polyethylene is quite often referred to as the world's toughest polymer. UHMW plastic is chemical resistant and has a low coefficient of friction, which make it highly effective in a variety of applications. UHMW is also a linear high density polyethylene, which has high impact strength as well as high abrasion resistance.
Better Engineered Poly/Plastic Drums