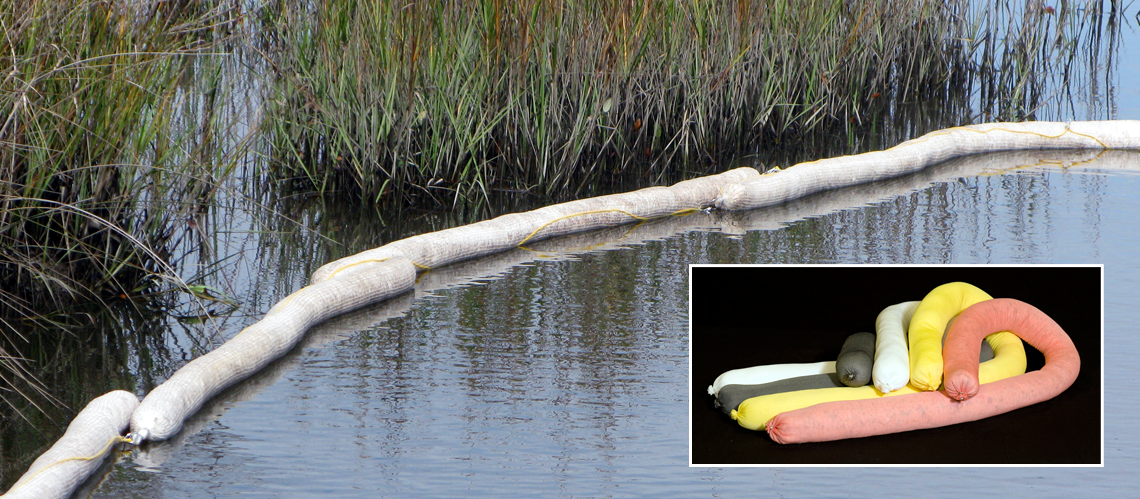 Absorbent Socks And Booms
Socks and Booms make up an important part of the sorbents universe.  They're quickly deployed to encircle a spill. Retrieve and dispose of when saturated and they are an important part of SpillContingency Planning.
Oil Only: For oil-only cleanup. Absorbs oil not water.
Universal: Absorbs oils, coolants, solvents or water.
Haz Mat: Soak up nearly any type of caustic or unknown fluid — acids, bases, solvents and chemicals.
Sorbent Socks
The most common size is 3 inches in diameter and are available in standard up to 40 socks per package.
Common standard sizes: (size may vary with type of fill. Example: Corn Cob at 3″ X 42″)
3 inch x 4 feet
3 inch x 8 feet
3 inch x 12 feet
3 inch x 20 feet
Available in Oil Only, Universal and Haz Mat (specific fillers vary by type of sock)
Types of fill: Polypropylene, Cellulose, Corn Cob, Recycled Shop Towels, 80 percent cotton.
Reusable:  Just wring out this economical Universal Sock and reuse it at least 40 times!
Because this Sock can be used over and over again, it provides more than just great leak and spill containment — it's cost-effective as well. With its long service life, it can do the work of up to 40 regular socks.
Absorbent Booms
There are two most common diameter sizes, 5 inch and 8 inch to meet the most demanding applications. Lengths vary from 10 feet to 20 feet and are packaged either four or two booms per package depending on length. (Absorbs up to 42 gallons per package of four for the 8 inch)
Booms are constructed of a strong outer mesh that encases a sock like skin filled with highly-sorbent materials. Included hardware that allows  connections  and overlapping for  long strings of booms.
Types: Available in Oil Only, Universal and Haz Mat.
Call us about your special absorbent requirements.
 SEE OUR INDUSTRIAL ABSORBENTS