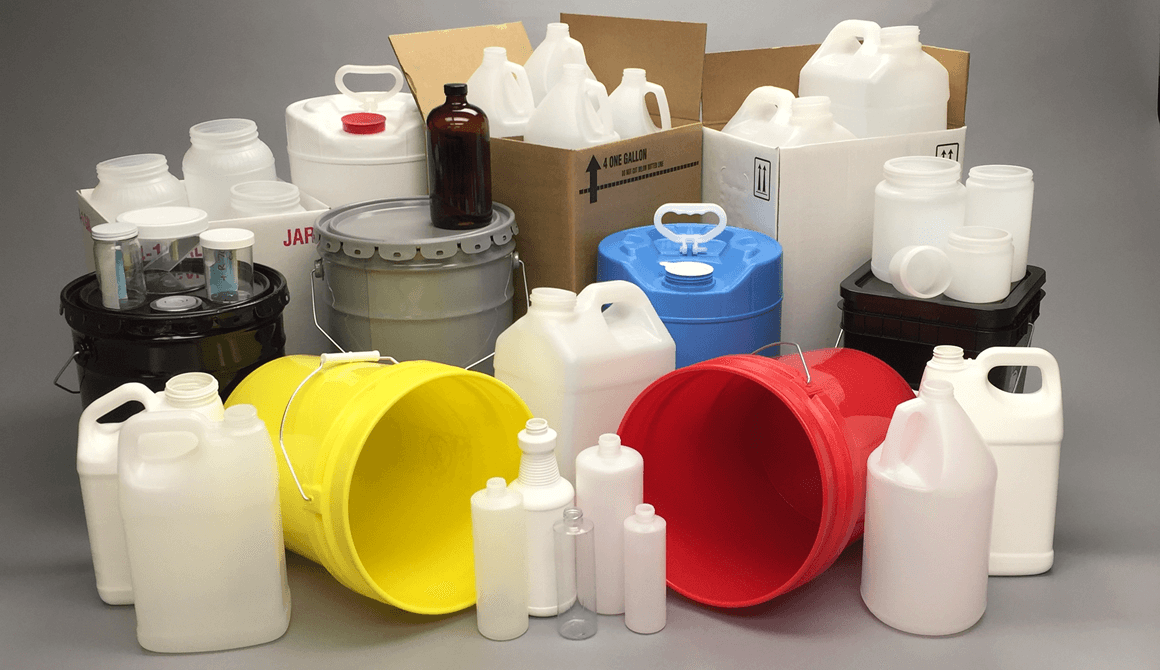 Smaller Plastic And Steel Containers
Plastic Bottles & Jars
Important Factors in Choosing Plastic Bottles & Jars
Jars are for thicker products; bottles are for liquids or thinner products

Capacities for plastic bottles and jars range from 1/2 ounce to 320 ounces
Opaque white containers (polypropylene) are used to protect light-sensitive contents
Clear plastic containers (polystyrene) allow contents to be seen but do not protect light-sensitive contents
HDPE containers are high density polyethylene, known for its large strength to density ratio. HDPE is commonly recycled. Some HDPE containers are white while others are natural (less opaque) in color.
Caps and lids are included with some containers, while lids and covers for others must be ordered separately (check the specs for each product being considered)
Container shapes available include oblong, round and straight-sided
Some bottles feature molded-in hollow handles to facilitate carrying and pouring
FDA Compliant – some plastic containers comply with FDA regulations.
Choosing a Metal Can or Tin
Some considerations
What will be stored or shipped in the container? (Will contents be hazardous?)
What size or shape do you need based on where and how it will be used?
Will lids or seals be required? Choose the right type based on your answers above.
Metal tins are available in round and oblong styles with a variety of tops and bases
Choose sizes ranging from 1/2 ounce to 30 gallons. Some tins are sold based on pound capacity
Storing or Shipping Hazardous Materials
Hazardous materials are closely regulated. contact us, we may be able to assist.
Make the Right Choice in Pails Buckets and Closures
What will be contained? Choose a compatible material – plastic or steel.
Need to ship, store, or dispense? Different closures are available, depending on use.
What capacity and shape are required?
Need an FDA approved container?
Is the material to be contained hazardous? We offer UN-Rated containers.
Product Compatibilty
If the product is hazardous and you are unsure about the compatibility of the material to be contained, contact us.
If the product to be contained in the pail or bucket is FDA regulated, you need to choose an FDA Compliant product. You can use the filters at the left side of the screen to help you see FDA Compliant products.
Closed-head vs. Open-head Pails
The lids for closed-head (tight-head) pails are not removable. Closed-head pails are generally used to hold liquids which will be poured or dispensed (e.g., with a pump).
The lids for open-head pails are removable. The cover is included on some items. They can accommodate a cover with no opening (e.g., Lug Cover LC26RI-B) or with an opening (e.g., for a Flexspout®). Check the product specifications for each item being considered to see if it is closed-head or open-head and what is included or needs to be ordered separately.
Shipping 5 Gallon, Steel or Plastic Pails
If you will be shipping 5 gallon, steel or plastic pails, consider using our Ergo-Pak Shipping Boxes. You can avoid the "Additional Handling Charge" for unboxed pails from FedEX or UPS.
FDA Approved Containers
If the product you will be storing or shipping is regulated by the FDA, you must choose an FDA Compliant container.
Tamper Evident Caps: Need to know if someone has opened a container? We offers products to help you maintain your security measures. For example, the Flexspout®Closure for Plastic and Steel Pails allows you to see if a pail has been opened.
Tips for Choosing the Right Paint Cans and Lids
Sizes ranging from 1/2 pint to 5 quarts
Choose tin-coated steel cans with epoxy phenolic lining or unlined; recyclable plastic can with organisol lining also available
Overseals of precision molded HDPE can bring paint cans into compliance with 49 CFR
Cans may be used for sample retention
Applications include: Ink, automotive and chemical.
Paint Can Linings
Tin-coated steel cans are available with an epoxy phenolic lining which is well suited to sensitive products including latex paint or other water-base products.
Unlined tin-coated steel cans are frequently chosen for use with paint, varnish and lacquers.
Recyclable Paint Can: Plastic, 1 gallon Paint Can #PC128-B can be recycled.
Shipping Paint Cans: If you will be shipping paint cans, consider using our Ergo-Pak Shipping Boxes.