SPILL CONTAINMENT PRODUCTS
Spill containment can be unique to your facility and the best possible solution is here. We've been helping companies make the right Spill Containment choices for a long time. Best available Solutions you can trust, product selections, quality and expertise you can rely on.
Battery Acid Spill Containment
Containment Pools
Drum Rack Containment
IBC Spill Containment
Outdoor Spill Containment
Railroad Spill Containment
Spill Collectors
Spill Containment Berms
Spill Containment Decks
Spill Containment Pallets
Spill Containment Sumps
Spill Containment Trays
Loading Racks
Lab Pack, Overpack, Salvage Drums
Drum Safety Cabinets
Mobile Spill Platforms
Horizontal Containment
Steel Spill Containment
Drip Pans
Drum Trucks
Utility Box
Sumps
Collection Tanks
Rack Containment & Trays
Bladder Systems
Self Bailers
Plus Much More
Spill containment for transformers
Our Transformer Trays provide spill containment for electrical transformers and other power distribution equipment that is being stored, shipped or repaired. The all polyethylene construction provides excellent compatibility as well as years of outdoor service.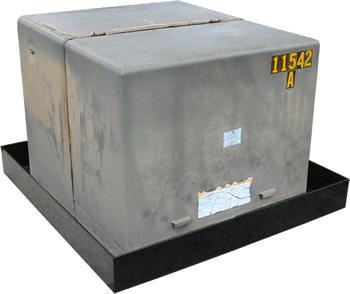 Certification and Compliance: Transformer Trays can help electrical utilities comply with the requirements set forth by the Spill Prevention, Control and Countermeasures (SPCC) rule. The SPCC rule defines several classes of oil storage. The most common is bulk oil storage, which includes tanks, drums, and other vessels that store oil before it is used. Oil-filled power distribution equipment devices fall under a class of oil storage known as oil-filled operational equipment.
Transformer Tray Added Benefits: Capture leaks, drips and spills from distribution transformers and other equipment. Polyethylene construction provides excellent chemical compatibility with PCBs and other oils. Rugged construction provides years of service. Available in 3 sizes to accommodate almost any sized transformer. Sizes: 4′ x 4′. 6′ x 6′ and 8′ x 8′. Special note: Due to the molded in support sections, the 4×4 Transformer Tray has a maximum usable space of 34″ x 34″. This is NOT the case with any of the other sizes.
 Applications include spill containment for:
Voltage regulators
Transformers
Circuit breakers
Autoreclosers
Oil/grease covered equipment or machinery
Affordable Spill Control – Clean It Up offers the most comprehensive spill containment product selection on the market today. The choice of products is almost limitless. Let us help you with a Clean It Up solution.