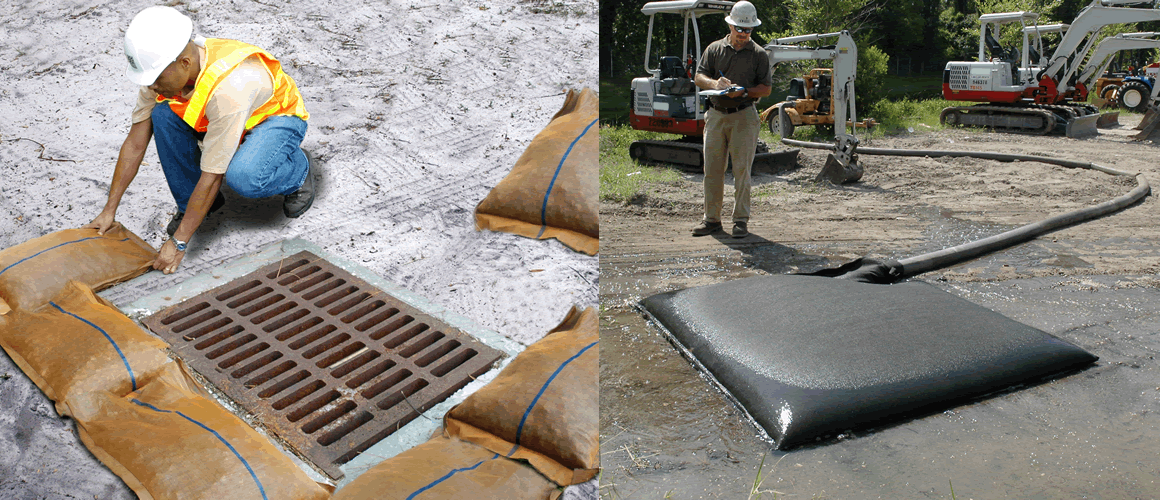 Water Erosion Protection Products for Hills, Runoff Areas and More.
Dewatering Bags: Contain sediment and oils pumped out  during dewatering operations. Standard and custom sizes available.
Gravel Bags: Heavy-Duty bags provide quick and easy sediment and erosion control. Made of high quality polymer materials woven into shapes, no sewn edges. Excellent UV rating for durability in sun light. Available in a variety of sizes and shapes, plus reusable models.
Filter Socks: Stops harmful substances from entering the stormwater and dewatering applications. Available in 9 foot lengths. and five separate types of media depending on which pollutant is present.
Pipe Socks: Control the flow of sediment and oil out of headwall and other types of discharge pipes. Available in three sizes.
Silt Dikes: Triangular silt dike barrier systems help contain eroded soils. Size: 84 x 67 x 10.5, ground staples also available.
Basic Requirements of a Stormwater Pollution Prevention Plan
Baseline Best Management Practices – include good housekeeping, preventative maintenance, visual inspections, spill prevention and response, sediment and erosion control and runoff management. SPCC compliance can be simply addressed using Clean It Up's ever increasing inventory of best products for compliance and control.
 VIEW OUR SPILL CONTAINMENT PRODUCTS