IBC Funnels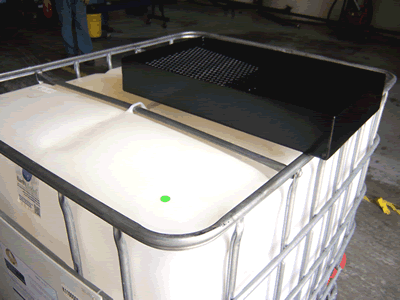 For IBC's, a rectangular shaped funnel is ideal for draining fluids from larger containers like buckets and pails for two reasons: Less Reach, Greater  Stability.
Our standard IBC All Steel Funnel measures 14 inches wide, is 24 inches long and 4 inches high and weights 18 lbs.
Powder coating provides a long-lasting and color-durable, chip resistant  quality finish.
Other key details: 3 inch diameter drain spout that fits down inside the IBC and is fitted with a catch screen. Designed to drain any type of fluid, our funnels will work with any  fluid collection system.
Our funnels are used across broad ranges of industrial applications for efficient and effective handling of bulk waste liquids that include fluid recycling, environmental cleanup, chemical industries, water treatment facilities to name just a few.
Special Options? Contact us for Color, Size and Drain Spout Changes to Meet Your Specific Application.