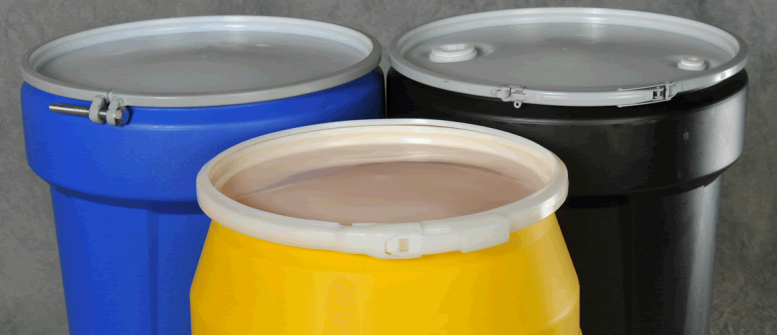 Keys To Selecting The Best Polyethylene Open Head Drums
Working with drum requirements can be complex when complying with UN Rating and Regulatory Requirements. Once that is complete, selecting just  the right drum for the job becomes interesting. Here are some key points to consider when you're ready.
Best Quality Poly Drums Are Ideal For:
Safe storage, handling and transportation of hazardous materials
Spill containment and clean up of hazardous materials
Spill kit containers
Original shipping containers
Biowaste disposal and incineration.
Our Better Engineered Polyethylene Drums just keep getting better with new more advanced models, features and benefits. All new and now available in our containers lineup.
Blow-molded HDPE construction
Chemical and weather resistant
HDPE incinerates completely
United Nations (UN) Certified to HM-81
Operating temperature range (-30ºF to 130ºF)
Drop Tested – Max Weight @ 0ºF (48 hrs.)
Approved for use with Packing Groups I,II and III
UV Protection Package
3/16″ Wall Thickness
UL 94HB Flammability Rating
Nestable for ideal storage (except for 50 gal. straight sided)
FDA 21 CFR 177.1520 Food Grade Quality
Stack Tested – three high a maximum weight capacity (24hrs.)
 Lid Styles
Bolt Band with Regular Lid (12 and 16 gauge)
Bung Lid (2 Bung Holes)
Screw Top
Plastic Lever Lock
Metal Lever Lock
Metal Band With Bolt
Lids feature closed cell foam or silicone gaskets
Lid closure instructions included in each drum
Salvage Drums pass pressure test
We have a full range of sizes and styles to choose from, including overpacks, pails, tight-head, open-head, straight-sided, cube-shaped, wheeled, salvage and Life Latch Screw Top. Capacities ranges from ½ gallon to 110 gallons. All containers are quality tested to withstand the rigors of shipping, are chemical-resistant, and rated for shipping or storing either solids or liquids.
Lab Packs/Open Head: For use with smaller non-damaged bottles, cans, carboys and 5-gallon pails of non-leaking hazardous materials – if leaking, must pack with sufficient Sorbents for – NO FREE LIQUIDS.
Salvage Drums – For use with damaged or leaking containers of hazardous materials or used absorbent materials, contaminated with a hazardous substance. Require Salvage drum labeling and must pass a 3-PSI pressure test.
Overpacks: For use with larger non-damaged containers, cans and drums of non-leaking hazardous materials – if leaking, must pack with sufficient sorbents for – NO FREE LIQUIDS.
Regulatory Compliance:
Lab Packs/Open Head: DOT 49 CFR 173.12
Overpacks: DOT 49 CFR 173.25
Salvage Drums: DOT 49 CFR 173.3
Understanding UN Ratings For Containers