Keys To Selecting Black Poly Drums and Containers
Why it Works
Poly 55 Gallon Drums and our other world class poly containers are widely available in a broad range of types, sizes, colors, options and accessories. In this post we'll cover features and in particular why black Poly Drums may be a better choice than drum colors that hav historically been selected.
In industrial applications, "Standard Poly Drums and Containers" are available in ranges of options to meet the demands of a specific applications or preferences. Many containers tend to look alike.  "Black with a white lid" stands out when it needs to and aids in implementing critical color coding standards and segregating chemicals hat are incompatible.
Where required, we also offer custom colors and custom production to meet specific requirements (minimum order requirements may apply).
Selecting black poly drums is an excellent choice:
Produced to the same exacting standards as our other Better Engineered Poly Drums
Excellent outdoor UV Protection
Less likely to show marks, scrapes and scratches
Space saving tapered and nestable stacking when empty
Food grade quality
To meet UN Ratings requirements. Drums are drop, freeze and stack tested
Available in standard, overpack, plus our newest Salvage Rating
Available with metal or plastic lever lock rings for quick opening and closing
Why drums are made of High Density Polyethylene (HDPE)
One of numerous types of plastics. It is a strong and durable material ideally suited for demanding container applications. Contact us for complete features, advantages and benefits of this excellent material.
Strong
Durable
Stress crack resistance
Chemical resistance
High impact strength
Excellent UV protection for outdoor storage
Types of Lids: Available with plain lids (shown in image) or lids with fittings (2 inch and 3/4″ bung openings)
Link to selecting Poly and steel Drums and Pails. Here you will find a broad set of guidelines for making the right choice on black poly drums and other containers.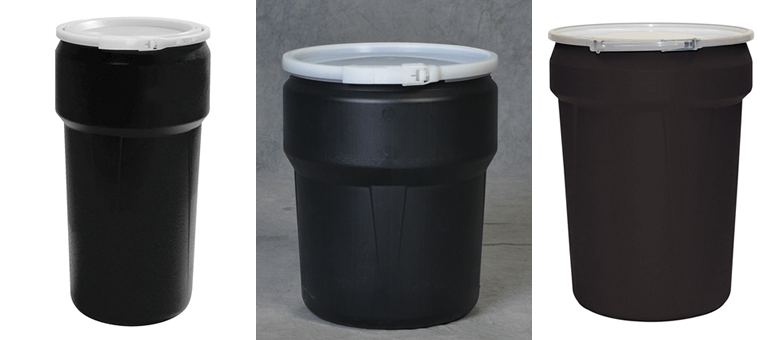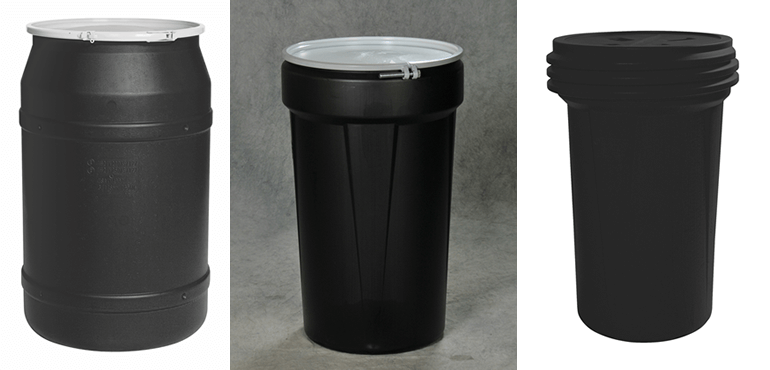 Our Better Engineered Poly Drums