IBC Funnels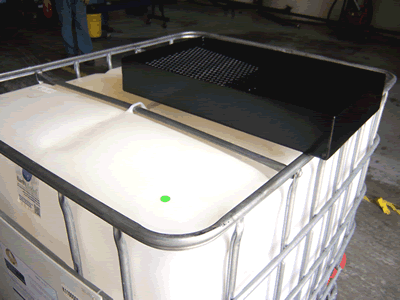 For IBC's, a rectangular shaped funnel is ideal for draining fluids from larger containers like buckets and pails for two reasons: Less Reach, Greater  Stability.
Our standard IBC All Steel Funnel measures 14 inches wide, is 24 inches long and 4 inches high and weights 18 lbs.
Powder coating provides a long-lasting and color-durable, chip resistant  quality finish.
Other key details: 3 inch diameter drain spout that fits down inside the IBC and is fitted with a catch screen. Designed to drain any type of fluid, our funnels will work with any  fluid collection system.
Our funnels are used across broad ranges of industrial applications for efficient and effective handling of bulk waste liquids that include fluid recycling, environmental cleanup, chemical industries, water treatment facilities to name just a few.
Special Options? Contact us for Color, Size and Drain Spout Changes to Meet Your Specific Application.
IBC Tote Wrench
Designed specifically for IBC 6 inch fill caps for properly torqueing fill caps before shipping hazardous products, you could receive a fine from DOT for not being compliant. Double handles for opening and closing, plus an 1/2 inch insert for torque wrenches. Call us about your specific application and complete details.Our, lightweight IBC tote wrench is an essential tool if you are shipping IBCs or Mini Bulks with hazardous products in them. Why? If you're not torqueing your IBC 6 inch fill caps properly before shipping hazardous products, you could receive a fine from DOT for not being compliant.
Now you can save time and effort, open and close hard to turn 6 inch fill caps quickly and easily. Other IBC fill cap wrenches can be used for the tedious, slow opening and closing of fill caps, but the combination wrench allows you to speed up the process of manually opening or closing your fill caps.
Our combination wrench works with Greif®, Schutz®, Mauser®, and most other 6 inch IBC caps. The double handles ease the opening of previously torqued fill caps, or use it to hand tighten fill caps for in plant use. Comply with DOT closing requirements by inserting a 1/2 inch drive manual torque wrench (sold separately) into the center hole and applying the specified torque per the manufacturer's specifications.
Lightweight (only 1.9 lbs) and easy to handle and carry
Tip to tip Measurement: 17 inches.
One-piece 365 Aluminum construction for durability
Fits most 6 inch IBC fill port caps
Accepts any 1/2 inch drive socket or torque wrench
Be sure to follow the manufacturer's closing instructions to be in compliance with the container supplier's torque requirements.
We offer a vast selection of drum and container accessory products for handling, dispensing, securing and more. Call us about your specific requirement.
Stackable HDPE IBC Totes
Rain Covers
IBC Adapters
IBC Valves | All Types
Plumbing Kits for Stackable Totes
IBC Valve Wrenches
Dust Caps
Bulkhead Fittings
Foil Seal Replacements
Valve Gaskets
Spout Extensions
Tamper Evident Venting Plugs
Gravity Feed Hose Kits
Containment and Dispensing Stations
Waterproof Covers
Blanket Heaters | Heating Jackets
Dust Covers
Cap Wrenches
Cover Caps
Samplers
Steam Hot Boxes
275 and 330 Gallon Dollies
Quilt Insulators
Cordless Tank Pumps
Fill Caps
Electric Mixers
Crimping Tools
Economy Sumps
Valve Adapters
High Security Seals
Contact Us For Other Special Items Not Shown Here