WHAT'S SO SPECIAL ABOUT COTTON INDUSTRIAL ABSORBENTS?
When industrial and commercial companies think about absorbents for drips and spills in their operations, it's likely the focus is on what's always been used. Until now that is. Clean It Up offers a top quality range of cotton absorbents for industrial applications.
Comparison: By contrast, a polypropylene oil, universal or hazmat type absorbent is made of a petrochemical by product, resins are heated, melted and blown on a production line to create a product that works well. Depending on quality control in production, each type of product may perform far differently and it's essential to select a product from a best available technology quality source for consistent and reliable results each and every time.
– Virgin Cotton for Oil Only spill applications.
– Recycled Cotton is used for general purpose applications for absorbing most liquids (not aggressive acids or caustics)
Cotton has natural properties that lend itself exceptionally well to drips, spills and more, and there's a broader story about why.
Virgin Cotton has a natural affinity for oils, while rejecting water (Hydrophobic). It's also why you don't see cotton in the fields degrading after rainstorms.
Recycled Cotton and cellulose products can vary widely in quality of performance.
WHY:
Our cotton series sorbents actually "absorb" liquids v/s meltblown polypropylene which actually "adsorbs" or adheres to the surface of the sorbent medium and is easily released back out. Adsorption is typically a weaker and reversible process compared to Absorption of liquids that is absorbed into the fibers of the sorbent medium.
Products:
Pads
Socks
Rolls
Split-rolls
Spill Kits
Drum Top pads (recycled shop towels)
Available in
Cotton – Oil Only
Recycled Cotton – For most liquids (cotton not intended for use with acids or caustics we offer other quality sorbents for those uses)
Heavy-Duty
Medium-Duty
Light-Duty
Econo-Duty (recycled shop towels only)
Perforated
Our cotton absorbents are sandwiched between upper and lower layers of cover stock for strength and durability,  for top performance even in the toughest of applications. (pads, rolls and socks).
Manufacturing Capacity: What good is a quality cotton product if the manufacturer runs out as soon as your demand spikes? We offer one of the largest cotton manufacturing capacity in North America.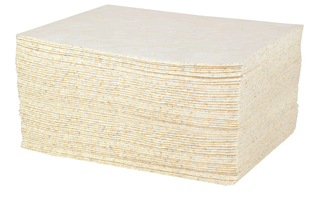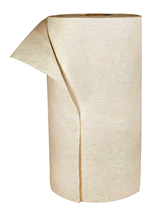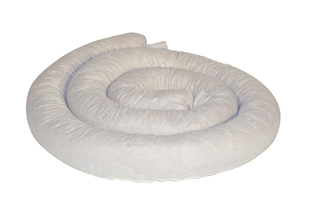 Solutions for Spill Control