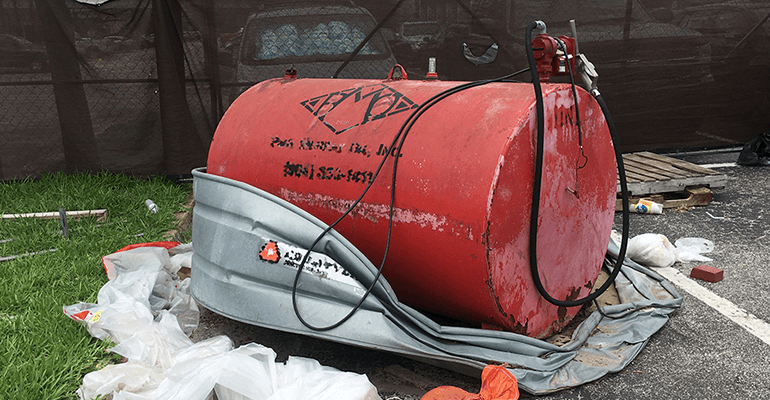 Tank Containment Solutions
I'm not sure if today's offender falls under the "something is better than nothing" category or the "maybe the inspector will only look at it from the good side" category.
But I'm fairly certain it's not in the "I'm in full compliance and my fuel tank is protected" category.
Regardless, the individual and/or company in charge of this site is going to have a serious (and expensive) problem on their hands should a spill occur.
What's the solution? My first guess would be to tell the heavy equipment operators to lay off the sedatives and pain killers and to watch what they're doing. I'd like to say that if this fuel tank was in one of our Ultra-Containment Sumps, this problem wouldn't exist. But since that product is made from polyethylene and not Kryptonite, I'm pretty sure it would have suffered some damage as well. (DISCLAIMER: I'm not, in any way saying you should discount the Containment Sumps. They're a great product line and popular enough to make it into our top 20 best sellers. But to say they would be a solution to the problem pictured above would not likely be accurate.)
On the other hand, if the fuel tank was stored in an Ultra-Containment Berm with flexible sidewalls such as the Rapid Rise Model or the Foam Wall Model, it would much more likely have survived.
That's the beauty of the Containment Berms, they're flexible. They have "give". They are designed to have large equipment, machinery and vehicles driven in and out. In the case of the Rapid Rise Model, the sidewalls stay down unless they are needed. If a spill occurs, the foam in the top perimeter rises with the liquid level.
The Foam Wall Model uses large foam blocks to give the sidewalls structure and support. The blocks are easily driven over and then quickly return to their original form/shape when the weight is removed.
Whatever the spill containment application, there is likely an Ultra-Containment Berm solution. Click here to see the different models available.
About Our Tank Containment