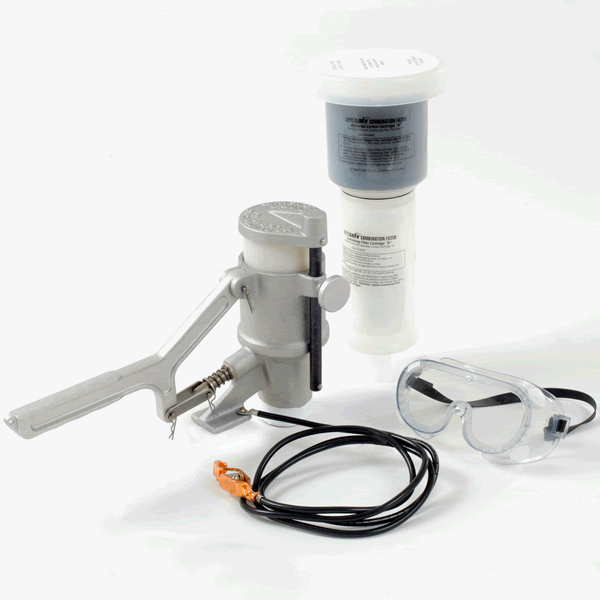 Can Depressurizers
Aerosol Cans – with flammable propellants or paint are regulated as hazardous waste. For safe, legal and economical usage. Our system meets state and federal regulations for aerosol can disposal. Simple to use, safe and quick.
2 Models to select from: Standard and Advanced.
Standard
Aerosol Can Recycling System, includes: Puncturing Device, #6163 Combination Coalescing Activated Carbon Filter, Anti-Static Wire, and Safety Goggles
Advanced
Aerosol Can Recycling System, includes: Advanced Puncturing Device-Teflon Coated, Automatic Shut-off Valve,(model shown) Combination, Colormetric Carbon Filter, Anti-Static Wire, and Safety Goggles
Options include replacement parts, and individual replaceable filter parts.
Contact us for more complete details and specifications.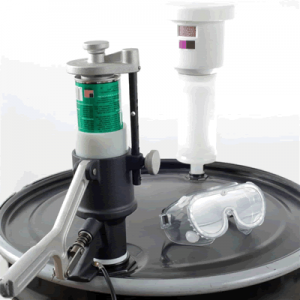 This the only aerosol can recycling system that is verified by the United States Environmental Protection Agency and certified by the California EPA. this system is not only the original aerosol can recycling system, but the only technology tested by the Department of Defense, California Department of Toxic Substances and the USEPA.
System eliminates an entire RCRA waste stream through the depressurization and recycling of aerosol cans. Whether you bake bread or build ships, refine oil or print books, brew beer or fly jets – chances are your facility uses more aerosols than you might think. If you are in compliance, you're spending a lot of money for hazardous waste disposal.
 VIEW OUR PLANT AND FACILITIES PRODUCTS