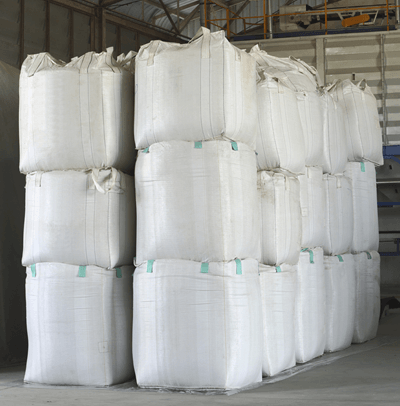 Keys To Selecting Bulk Bags | FIBC's
Standard and Custom Bulk Bags are among our specialties. We'll ask a lot of questions to be certain we understand your specific application.
Key Questions Regarding Bulk Bags:
What is the material going into the Bulk Bag: So we'll know the general parameters for the FIBC.
What is the Bulk Density of the material: Lbs.per cubic foot to right size the bag and match to safety factors. (quiksearch: Web search for Bulk Density Material Chart, many are available)
Additional Details
Is this material Hazardous. Reference link to Code of Federal Regulations (Title 49 CFR Parts 100-185)
Particle Size: Fine Medium or Coarse.
Market Segment (Food, Pharmaceutical, Chemical, etc)
Moisture Percentage:
Special Barrier Required: (i.e. hydroscopic?)
Characteristics: (free flowing, bridging, static build up)
Monthly Volume to be Shipped:
How is the Product Currently Packaged:
FIBC Options: =Coated or Uncoated fabric, Fabric weight to meet safety factor:
FIBC Design | Filling
Batch Size

:________________________Desired Weight Per FIBC:___________

Filling Method: (i.e.conveyor, gravity, Bulk Bag filler)
Details on Area Where FIBC will be Filled (ceiling clearance, dusty, static concerns)
Automated FIBC Filling Equipment Desired:
Fork Lift Maximum Load at Filler:
How is the Product Currently Filled:
Sizing Restrictions | Constraints:
FIBC Filling Options: Open Top, Spout Top (Spout Dimensions: i.e.14″ dia. x 18″ long), Duffle Top, Conical Top.
FIBC Design | Discharging
Batch Size at Discharger:                                               Controlled discharge  desired:________

Discharge Method (i.e. gravity, screw, conveyor, bottom cut, full dump):
Details on area where FIBC will be Discharged (clearance, manual, etc)
Fork Lift Maximum Load at Discharger:
How is the Product Currently Discharged:
FIBC Discharge Options: Flat Bottom, Spout Bottom (Spout Dimensions: i.e. 14″ dia. x 18″ long)
FIBC Handling | Storage | Shipping
Top Lift Feature:   4 Point Lift, Single Point Lift, Cross Corner Loops.
Transporting: Slip Sheet, 4 Way Pallet, 2 FIBCs | Pallet
Shipping Distance: Inter-plant, Overseas, Cross Country.
Shipping Method: Rail, Flat Bed Truck, Other.
Racking System: Yes, No………..if Yes,Racking Dimensions:
FIBC Options: Self Standing Loops, Secondary Loops, Pallet Free Standing, or other.
FIBC Options | Inner Lining
Will Coated Fabric be Sufficient: Yes, No.
Liners Styles: Form Fit, Straight Tube.
Liner Inserting: Tabbed, Loose, Glued, Sewn in Wings.

Liner Film:                                             Barrier: (Oxygen, Moisture, UV,

Conductive__________
FIBC Options: Sift Proof Seams, Coated, Uncoated, Breathable Fabric, or other.
FIBC Options
Printing: 1 Side, 2 Sided, Black and white, or Color.
Labeling | Product Identification:  Full Details.
Colored Fabric:
Pallet Preference:
Cross Contamination Concerns:
Other Special Considerations: (i.e.  Metal detection, FDA approved materials, etc)
Complete Bulk Bags Details