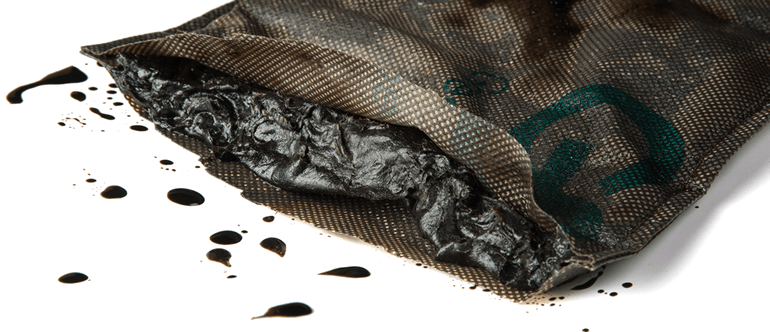 Breakthrough Technology In Oil Spill Removal
Mineral Fiber Sorbents are the product of  tomorrow, available today. Positively different.
Why It Works: Mineral wool is also known as mineral fiber, mineral cotton, or rock wool. It is used as insulation and sound dampening material. It is manufactured by blowing steam or air over molten rock. The resulting material is a lightweight material similar to cotton. The fiber thickness is 10-20 microns. Mineral wool is non-flammable and non-reactive. Our GO mineral fiber sorbent filler ensures 100 percent saturation and allows clean up of spills up to 3 times faster.
Absorbs Faster: 99% of the absorption takes place in the first 15 minutes
Absorbs More: Mineral sorbent products are up to 3 times more absorbent: 8''/ 10' boom absorbs 25 gallons
Reduce Costs: By squeezing the oil out from used absorbents
Made from natural, non-asbestos mineral fibers
100% hydrophobic, absorbs oil/ repels water
More Absorbent; 2-3 times more absorbent than polypropylene
Works in any weather condition
Suffers no UV degradation
Hydrocarbons can be recovered by applying mechanical pressure
Puzzle Absorbent System
Benefits of GO Puzzle Absorbing System: 3 1/3 sq/ft of the cover absorbs up to 39 gallons of oil
Size of one box is abut 18 inches x 18 inches
No need for special equipment and expertise, installs manually in minutes
100% hydrophobic
Resistant to all weather conditions
Easy to install and remove used puzzle box, as the grid connects like puzzle
Can be scaled to most size  and site requirements
Designed to be installed outdoors and left in place to absorb any spills or leaks. Easy installation and replacement.
Mineral Fiber Product Types
GO sorbent product types are available in a broad range. The keys are not only what is presently available in socks, booms, pads, pillows, spill kits and more, but the rapid development of new products that are unique.
Please keep an eye on our main product page (link immediately below) for the introduction of  new, unique and industry changing technologies and coming soon.
Mineral Fiber Sorbent Products