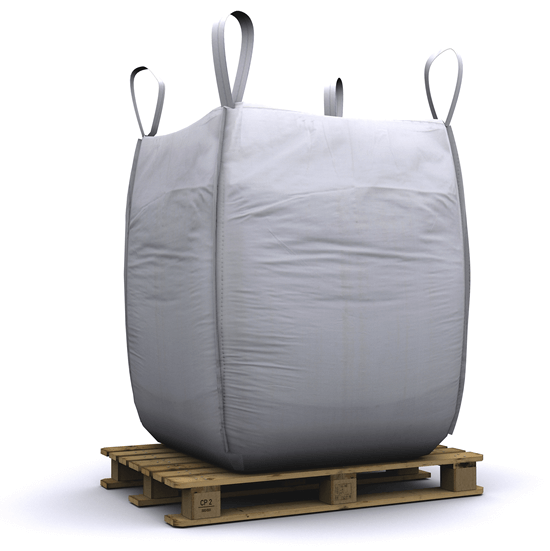 Dewatering and Drainable FIBC Bulk Bag Solutions
Bulk Bags represent one of the most versatile types of containers available and just one of the variations is for dewatering sludge and other materials.
Difference: Our dewatering or drainable Bulk Bag Solutions are basically the same fabric as regular bulk bags with one important difference, " The weaving for dewatering, called an Amoco Weave is different in that the weave tapes are twisted so as to allow better and faster drainage".
Standard Stock Sizes
(with similar specifications as shown below, except size)
35″ x 35″ x 35″ :  Configured With Duffle Top And Plain Bottom
36″ x 36″ x 42″ :  Configured With spout Top And Spout Bottom
Most of our standard bulk bag inventory will have 14" diameter x 18" length fill spout & Discharge spout, with spout tie off's. It is an industry standard.
Spouts, both top and bottom are always being customized to customer and application specs based on filling equipment, etc. We can custom make bags with custom spouts In 5 to 7 weeks from date of order.
Custom Example
Recently a customer using one of our standard size Dewatering/Drainable Bulk Bags required a smaller size with similar specifications for special uses around their operations. We met their special size requirement in a 35″ X 35″ X 18″ and produced 200 bags custom FIIBC units on time and under budget.
Model Nbr: CIU-6902-U81
Size: 35″ x 35″ x 18"
Type: Woven PP Bulk Bag
Weight Rating: 1200 lbs.
5oz Uncoated White Drainable Fabric
U-Panel
Style: Duffle Top, PLAIN BOTTOM
1 Ziplock 10×12" pouch
4@10″ Lifting Loops, 2″ Wide, White
Safety Factor: 5:1 SF
Label: "Distributed By: Tri-State Services & Supplies Inc." (Clean It Up)
Quantity: 200 pcs / Pallet
Important Details regarding Our dewatering or drainable Bulk Bag Solutions
Bring in one or a few bags, test to determine that this is the right solution for your application.
Also see our overview of Specific Dewatering Fabrics