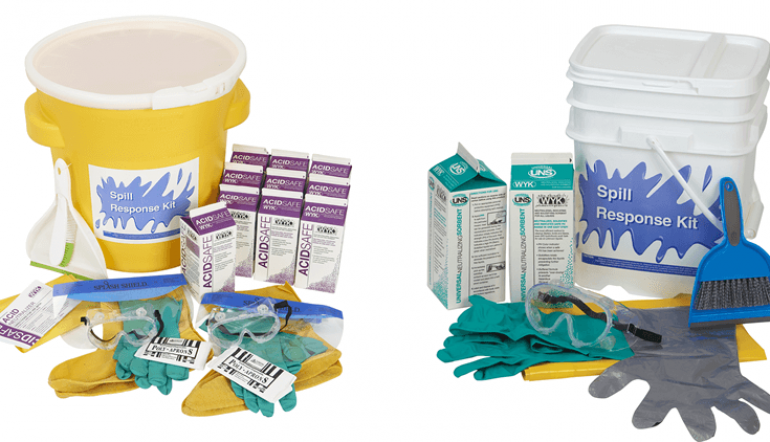 About Acid Spills and Cleanup
There are fast, safe and effective methods for addressing, neutralizing and absorbing acid spills. As part of  your Spill Contingency Plan, planning for the worst case scenario spill is appropriate and ensures the ability to quickly react to, address, contain and dispose of hazardous spills. In addition, specific spill training for addressing acid related spills is always the best plan.
The AcidSafe product contains an indicator that provides a visible color change to indicate complete neutralization.
Example: After proper PPE outfitting, simply apply acidSafe around the spill and over the liquid. Observe the color change to orangish yellow and when this return back to purple the liquid is neutralized and safe for pickup.
The ranges of various acid related products and sizes is extensive. From granular sorbents, to liquid neutralizers, many sizes and types of products are available to match the needs for small to large industrial facilities.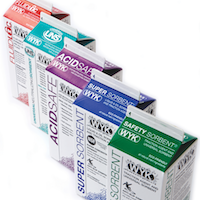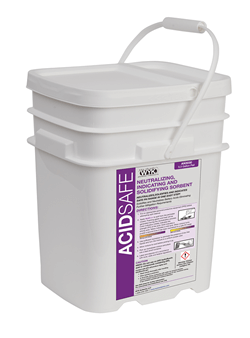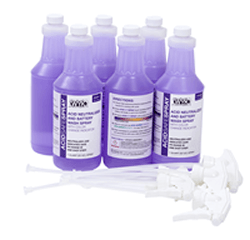 Neutralizing Pump Sprayers
Universal Neutralizing Sorbent
UNS is the most efficient method for cleaning Battery Acids and Bases, even (HF) hydrofluoric acid!  UNS (Universal Neutralizing Sorbent) is safe to use on all liquids. The perfect solution for unknown liquid spills. Helps to identify the liquid with color indicators showing if the liquid is a base or an acid. UNS will neutralize both bases and acids minimizing vapors and solidify the liquid. When neutralized UNS will color indicate when a safe PH range has been reached.
PH Color indicator shows safe when a safe PH has been achieved. Initially indicates the strength (PH) of the acid: Red indicates a low PH (Acidic) and turns yellow when neutralized, Blue indicates a high PH (Base) and turns green when neutralized.
Solidifiers totally encapsulate the liquids
Buffered formula prevents "over-dosing" to another hazardous PH level
Non toxic to humans, animals, marine or plant life
Product sizes – Universal Neutralizing Sorbent
2 quart shaker carton, 3 lbs. each, 12/case
2 quart shaker cartons, 3 lbs. each, 4/case
25  lb. multi-wall kraft bag with liner, 1/case
25 lb. flip top dispenser pail, 1/case
Various size Spill Kits and Spill Stations
Contact us for additional details
about this and other solutions for acid spill neutralization
and control products
See Spill Control Section